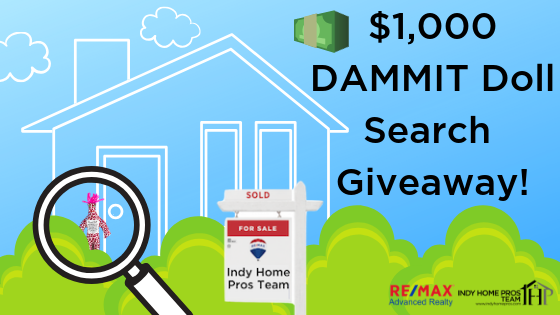 Welcome to The Official Page of our Biggest Giveaway Ever; The $1,000 DAMMIT Doll Search Giveaway! One Big Winner gets $1,000! Below you will find everything you need to know about our contest, happy DAMMIT Doll hunting!
- Dennis Nottingham | Owner-Broker RE/MAX Advanced Realty, Indy Home Pros Team
----------Official Rules and Regulations----------
Contest Overview: Find the DAMMIT Dolls and be entered to Win $1,000! The Dammit Doll Search Giveaway Contest will officially run from May 7, 2019 through June 15th, 2019. During this time, you can search for Dammit Dolls hidden in Listing Photos of our Featured Listings (save that link into your browser and check back daily!).
Dammit Dolls will be added throughout the duration of the entire contest, so you will need to check back regularly in order to find at least 5 out of the 10 dolls to Enter! BONUS: Find ALL 10 Dolls During the Contest and Be Entered Into a Second Drawing to Win a DAMMIT Doll! First (and maybe more!) DAMMIT Doll will appear May 7th in one of our Newest Listings!
How To Enter:
There are 2 Parts and Forms To Enter:
1) Complete the Official Entry Form Below (this automatically Enters you for our DAMMIT Dolls Giveaways of an actual Doll throughout the Contest!)
2) Official Search Form and How to Submit:
Starting May 7th, complete the Official DAMMIT Doll Search Form over the next month and a half and submit it to us filled out with at least 5/10 Dammit Dolls and their locations! DAMMIT Dolls will be added throughout the duration of the contest so you will need to check back regularly to find them!
There are two ways to submit the form: Online here (we suggest writing the addresses and locations in your phone or on a piece of paper then submitting once you have 5/10!) or downloading the form here and submitting in person or by mailing to our RE/MAX Advanced Realty Headquarters at: 2611 Waterfront Pkwy E Dr #225, Indianapolis, IN 46214
HOW WINNER IS PICKED AND ANNOUNCED:

All qualifying entrants who complete the Entry Form AND Find at least 5/10 Dammit Dolls in the correct address and locations on the search form will be entered into a drawing. The drawing of the $1,000 Winner will take place LIVE on Facebook during the week of June 17, 2019!
Official Rules and Regulations:
-Limit One Entry per person
-Must be 18+ years of age to Enter
-Must be Indiana Resident To Enter
-Must Submit Search Form by 11:59PM June 15th, 2019
Thanks for playing and Happy DAMMIT Doll Hunting!
-Dennis Nottingham | Owner-Broker RE/MAX Advanced Realty, Indy Home Pros Team